Don't let Lucy's cuteness fool you. She was trying to "blend" so she can do this: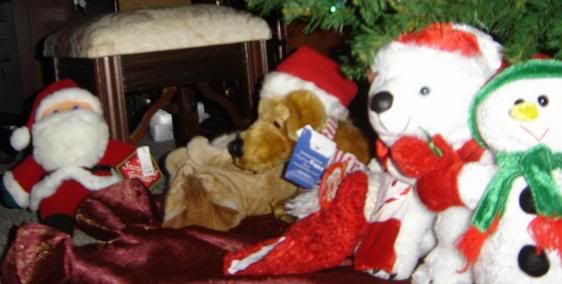 I took a picture right after I decorated it because I knew in my heart it would never look like this again. I was right.
Glenda, if you're reading this, yesterday, Lucy and Stephen played
kickball
with one of the ornaments you gave me. The 2005 ornament. Which, by the way, was my favorite one. When I realized the cat and the boy were going to do this (Lucy starts it!), I figured I better get my glass ornaments off of the tree. I missed this one. But Lucy found it. :( My dearest friend Glenda buys me a beautiful ornament every year. Maybe ... starting next year, you might want to get me an ugly plastic one. Lucy hasn't touched any of my ugly ones. ...
Darn cat
!
I will update again, soon. But it may be after Christmas. I have to get started in the kitchen today and won't come out till ... whenever.
I wish each of you a Merry Christmas and a blessed holiday season!