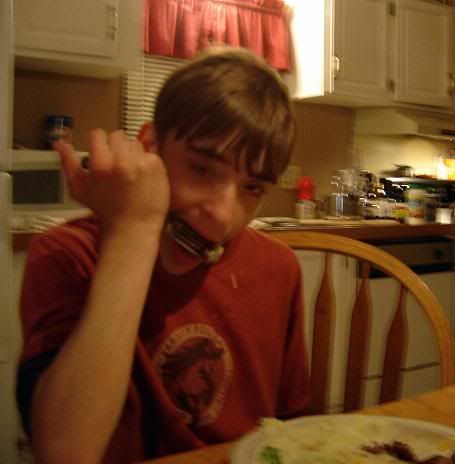 How about a Stephen update? It's been a while since I've really gone into detail other than just posting a photo.
Yesterday, I was being lazy, laying around because my back was bothering me. I guess it goes without saying that Stephen only likes a few pounds being caught up with his mama's size. Yesterday was one of those days that my back felt strained and I pretty much lived all day in my pajamas and visited a few blogs. I'm behind on housework but feel that I've gotten caught up on a lot of my friend's blogs and even visited a few new ones that I enjoyed and will be returning to.
So let's get back to Stephen and that photo up there
. I'll be the first to point out that Stephen is not showing off his
million dollar smile
and the whole thing turned out blurry. Never mind that. The main focus of this picture is the fact that Stephen is feeding himself with a fork. He still needs our help but that's only with minimal assistance now days. I'd say he's finally mastered this goal. We'll work on his Emily Post at a later time. Right now, I'm just thrilled beyond measure that he's able to grip the fork, stab at his food and eventually get it in his mouth. It's hard for him but he's getting there. Let me tell you, it's hard for me as his mother to not do it for him when I see him struggling with this task and if I'm honest with you, the fact that I had a hard time for so long with that issue, I may have held him back with this and other skills.
I've never raised a neuro-typical child but I'm guessing that all parents, moms in particular struggle in that department. I remember that my mom did. It was a rule that my bed was to be made daily so I started making my bed before I even attended school. Mom said it looked like bodies were under there and she'd redo it for me instead of waiting for me to develop that skill on my own. She was a perfectionist (which I inherited from her) and the corners of the bedspread had to equally touch the floor all around the bed. If one corner was higher than the other, she couldn't stand it. Also, my friends and I were not allowed to wallow (woller, we call it down here in Alabama) on the made beds; we had to sit in the bean bags or on the floor. I don't care how good you were at straightening up that bed, mama knew someone had "wollered" on it. ;-)
I know a lot of my friends struggle in helping their children with their homework. Again, I remember those days. I attended Shelby Academy during my elementary years, which was a private school and the classes there were way tougher than the public schools in those days. (I've heard they've lowered their standards since back then. How unfortunate for me) Back when I was four or five, my mother was convinced that I was above average intelligence and in just a matter of a few short years at Shelby Academy, I had the honor of proving her wrong. Very, very wrong. My poor parents had the hardest time helping me with homework. We didn't know it, but I was ADHD. It's SO abundantly clear now that I am ADHD as an adult. Can't you tell by trying to read my stories? This is why I don't update very often. Being ADD
and a perfectionist
(OCD), I just don't have time to do it to my standards! Anyway, a lot of the time, my mama or my brother would just do the homework for me because after all, Christmas would be here before I finished on my own. Eventually, the homework got much tougher and it was getting harder for them to "assist" me so my parents hired a tutor for me. For the first time in my life, I had to do this task on my own with the tutor working with me but pushing me to actually learn the math. I'm glad I finally learned the basic stuff, it comes in handy when I'm doing the books, cooking with a recipe or mixing chemicals for someone's hair color. ~~ Forget French though. That just wasn't happening for me. I failed French with flying colors. The tutor told me that she hoped I never had to live in France.
All this to say, so many things I wasn't pushed to accomplish because it was easier for someone else to just do it for me. Till this day, regrettably, I'm still the type who needs a nudge with the important things. I give new meaning to the word, procrastinate. And, at the same time, I see myself doing the same exact thing to my son. Notice, I didn't say "for" my son. Because, I believe if you don't encourage your children to do all they can on their own, you are doing nothing "for" them. The greatest disservice we can be to our children is to reinforce their fears and insecurities (and their laziness) by allowing them to avoid the things they don't want to do. My goals are a little different from most parents. I just want my child to be able to feed himself, go to the bathroom on his on, dress himself -- Just basic daily living skills. But, I'm hindering his progress when I give in and do it for him. I think, as parents, special needs or not, it all comes down to teaching our children to live independently to the best of their ability when we are no longer around. The thought of Stephen being in this world without me is the one thought that keeps me awake at night. The one thing he needs most from me is for me to push him to be all he can be and do all he can for himself so he'll be as prepared as possible for that day. That's very clear to me now. So I'm praying now for God to show me the way of doing this because this is a new skill for me to learn. -- And this is one thing NO ONE can do "for" me.